World Fiddle Ensemble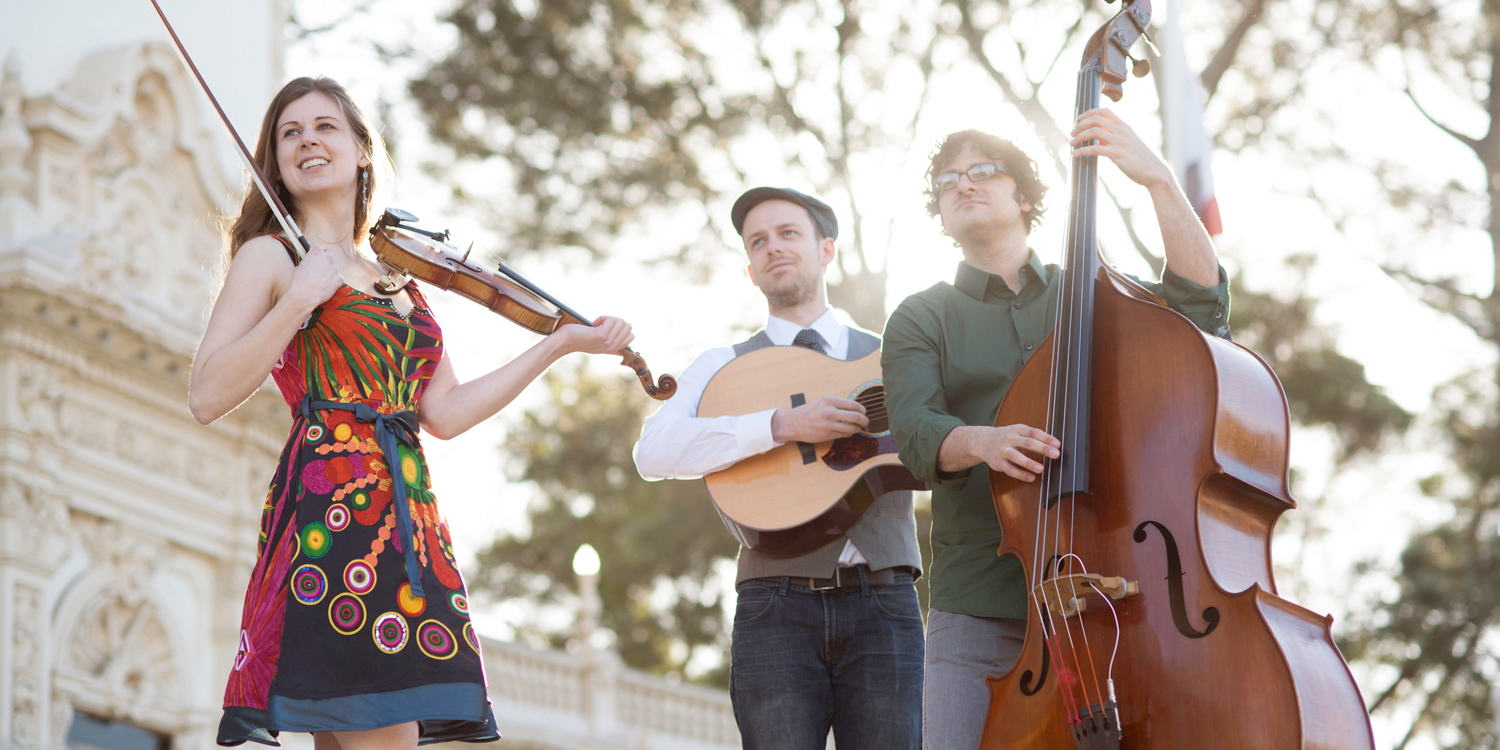 Photo By SubbusClicks
Ready for a unique musical adventure? Multistyle violinist and champion fiddler Mari Black showcases her musical versatility with her World Fiddle Ensemble, presenting concerts of energetic, eclectic fiddle music from all around the globe. The show features Mari's fresh dance-driven music that transcends any musical style, an innovative blend of Celtic, American, and Canadian fiddling, jazz, tango, klezmer, folk, original works, and more, all woven together into an engaging narrative. Joined by her band of dynamic virtuosos, Mari takes audiences on an unforgettable journey through the world of music, with many unexpected twists, fun background stories, and lots of toe-tapping for everyone!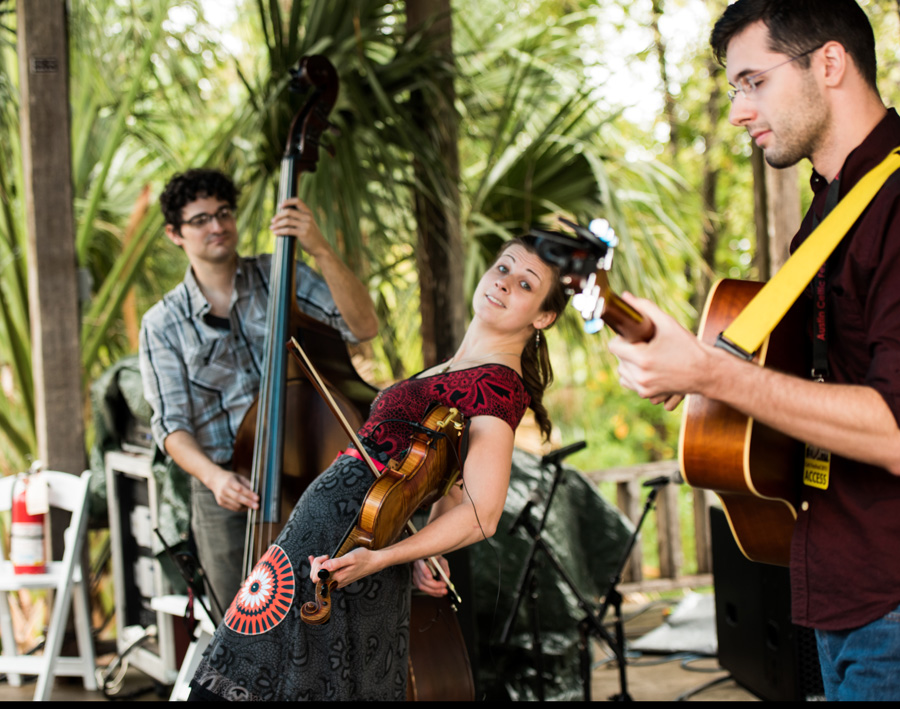 Photo by Dale Rempert
Praise for Mari and the World Fiddle Ensemble:
"Close to a hundred people clapped their hands and tapped their feet to the sounds of fiddle champion Mari Black. Mari and her trio played a variety of different music, all the while sharing what country it was from or a connection to an artist with that song. During a waltz she played, several waltzed in the aisles."
"I don't think I know any musician who has crossed as many boundaries as Mari has – from folk to jazz to classical to world music. Actually, for Mari Black, there are no boundaries."

Shows you'll see:
All of Mari's World Fiddle Ensemble shows feature an energetic and engaging blend of music from around the world, guided by stories about the music, and a whole lot of toe-tapping for everyone! Performances often include special guest dancers or musicians. Some favorite shows include:
"Fiddling Around the World" -- A high-energy tour of fiddle music from all different corners of the globe, featuring origin stories with Mari as the musical tour guide. Every show is a different journey!

"Spirit of the Dance" -- Mari's signature tour of diverse music designed to make the human body move! Celtic step dances, bouncy swing tunes, baroque parlor dances, luscious tangos, spicy International folk dances, and perhaps even a traditional New England contra dance for the whole audience.

"Impact and Evolution" -- An exploration of the ever-evolving links between different styles of music. Mari highlights some of her favorite likely (and not-so-likely) bridges that have been built between genres, crossing the ever-expanding boundaries of world music.
So what's a show like?
Wondering what you'll see at a World Fiddle Ensemble concert? Check out this review of a recent show with Mari and the band: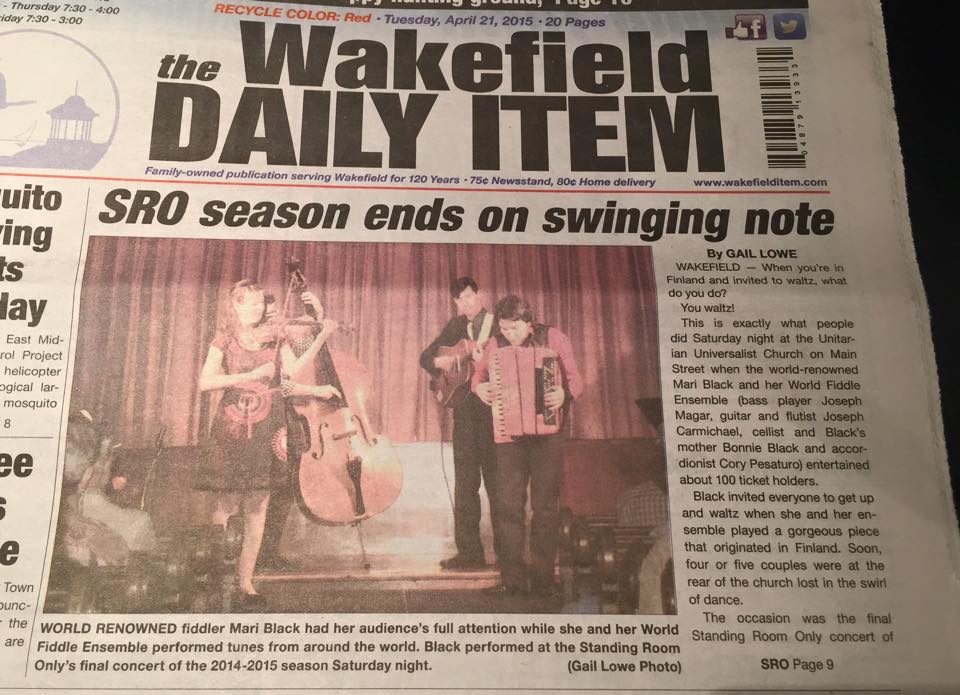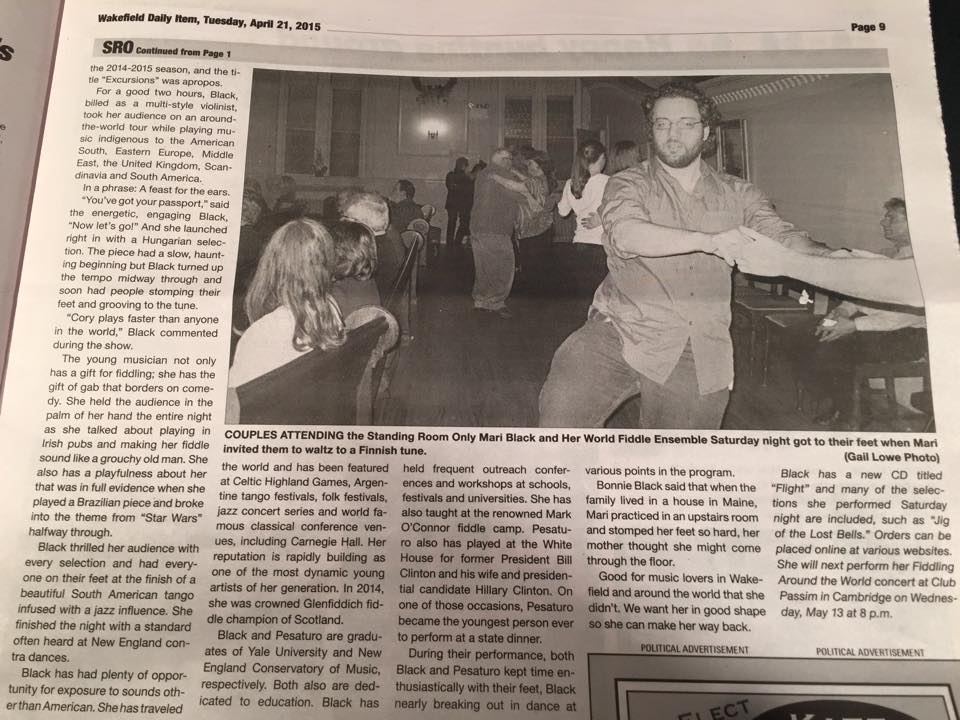 Meet the Ensemble
Mari's World Fiddle Ensemble features a rotating roster of dynamic, eclectic, and virtuosic musicians who specialize in performing a diverse array of musical styles. The group performs mostly commonly in a trio configuration (fiddle + guitar or piano + 'cello or bass), but also appears as a quartet or quintet. Recently, the band has featured:

Conor Hearn, guitar
Will MacMorran, guitar
Owen Morrison, guitar
Colin Cotter, guitar/vocals
Jake Charron, piano/guitar
Joseph Carmichael, guitar/whistle
Neil Pearlman, piano
Kendall Rogers, piano
Cory Pesaturo, accordion
Bonnie Black, 'cello
Mike Block, 'cello
Eugene Friesen, 'cello
Joe Magar, bass
Jesse Williams, bass
Justin Meyer, bass
Marty Richards, drums