x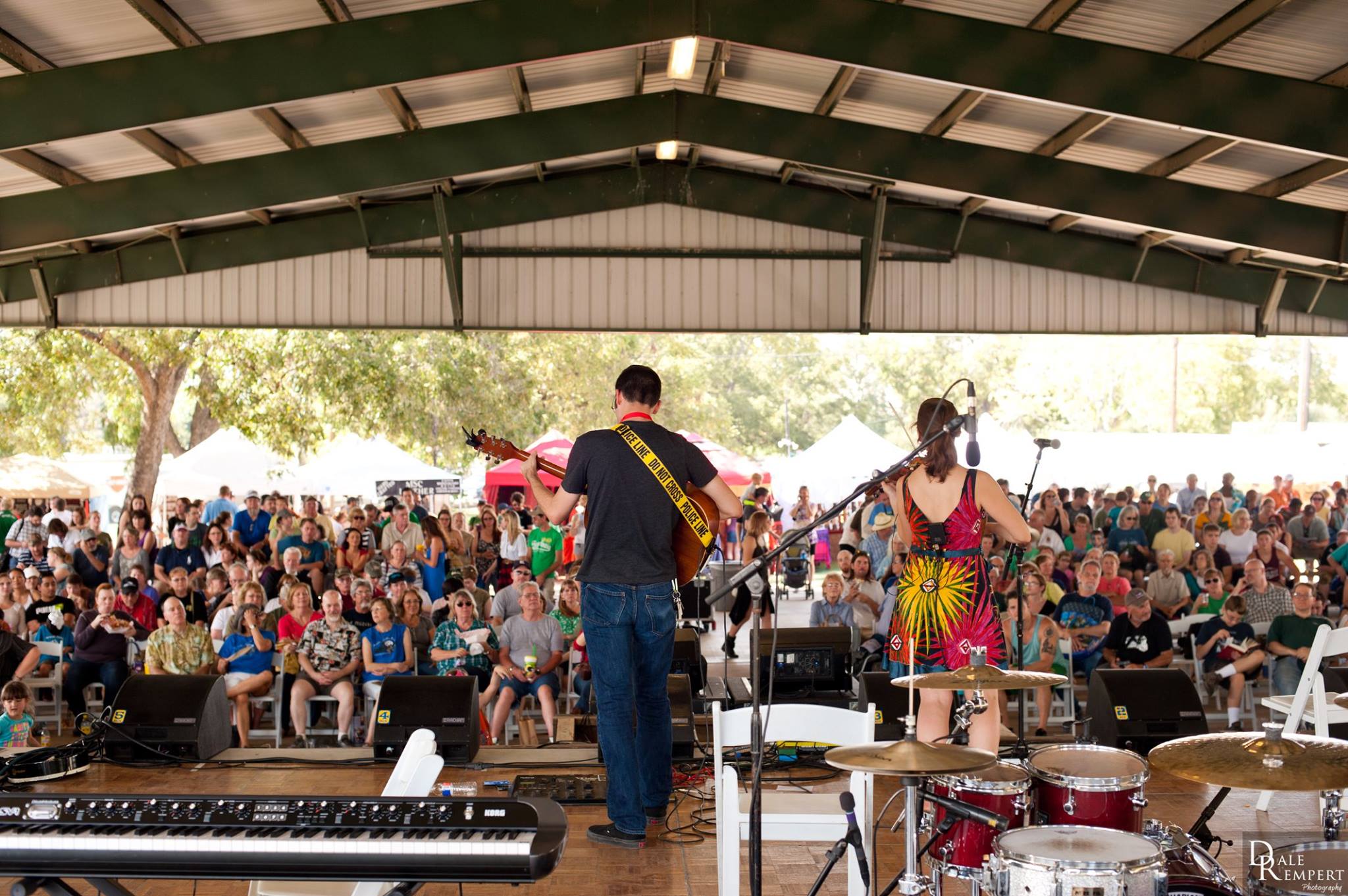 Packed house at the Austin Celtic Festival
Mari and guitarist Joseph Carmichael throw down some rockin' dance tunes for the crowds at the Main Stage of the Austin Celtic Festival (Photo by Dale Rempert)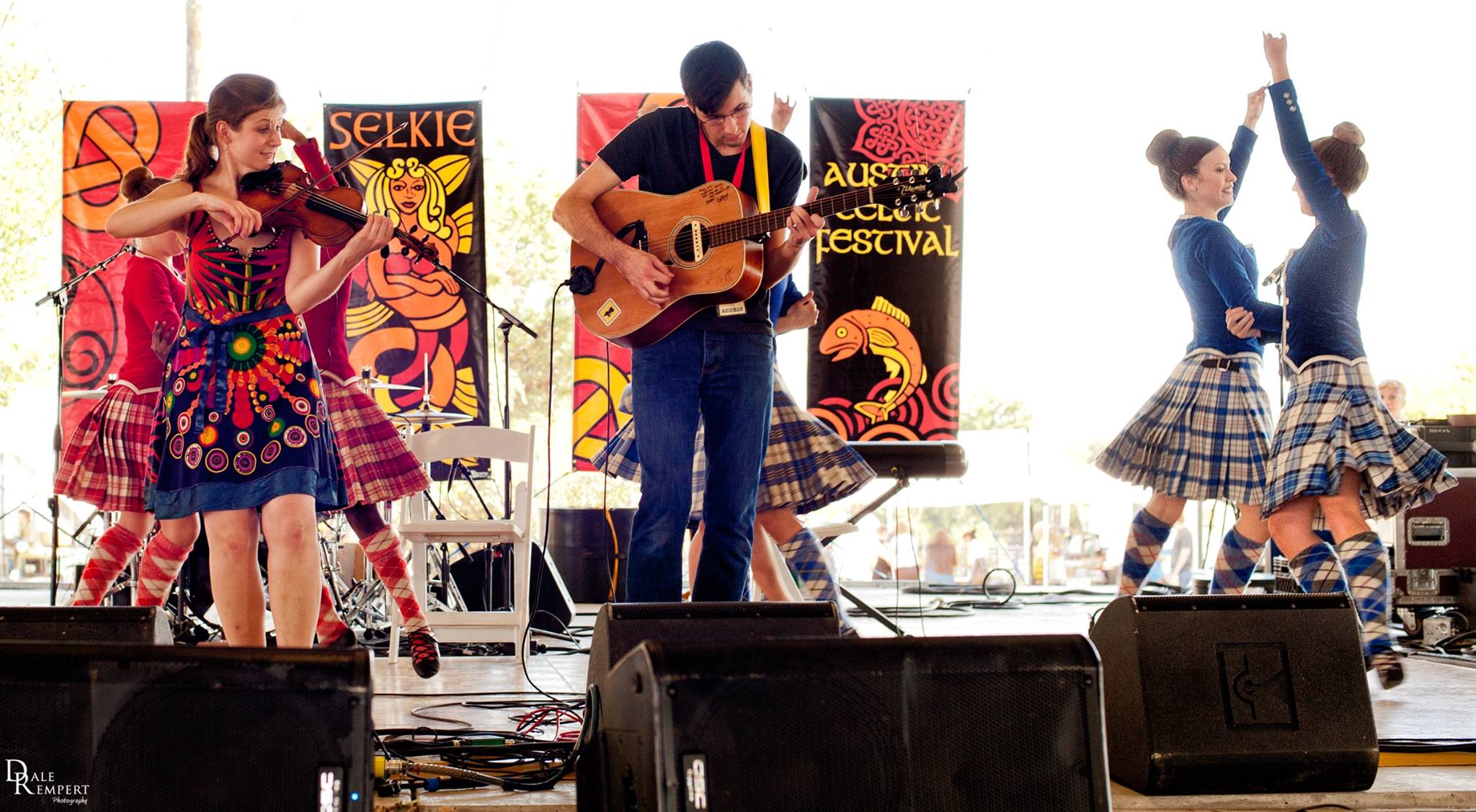 Guest dancers at the Austin Celtic Festival
Mari and Joseph are joined by Scottish dancers to close their Main Stage set at the Austin Celtic Festival. Not picture here: The hoard of spectators who had left their seats to come dance at the foot of the stage. Doesn't get much better than this! (Photo by Dale Rempert)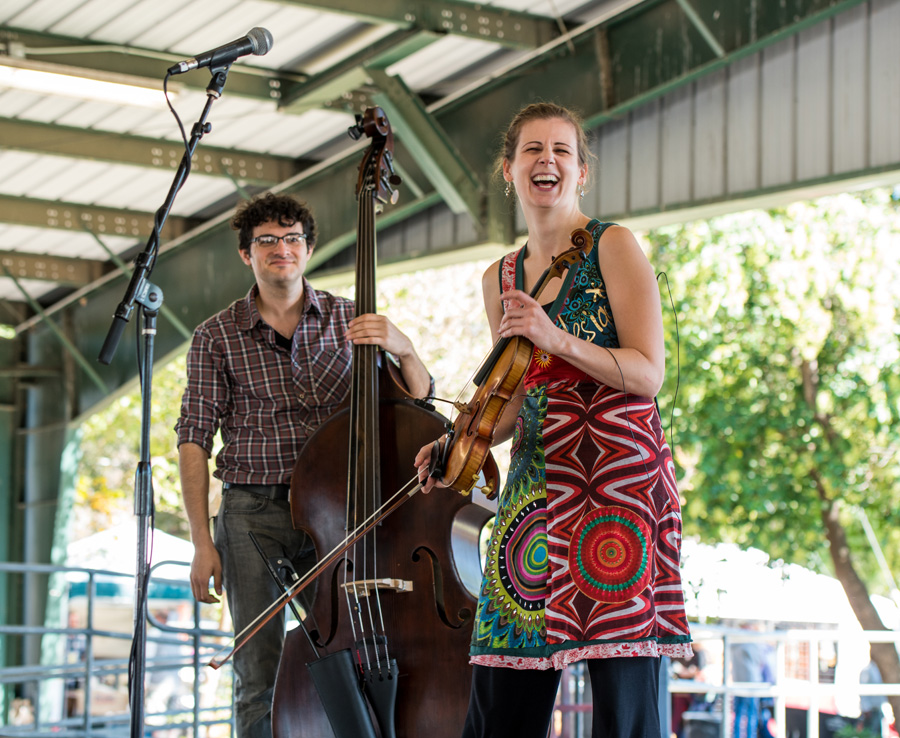 On-stage hilarity
You never know what shenanigans are going to come down on stage! Here, Mari and bass player Joe Magar react to a routine on-stage visit from the unexpected and mirthful. (Photo by Dale Rempert)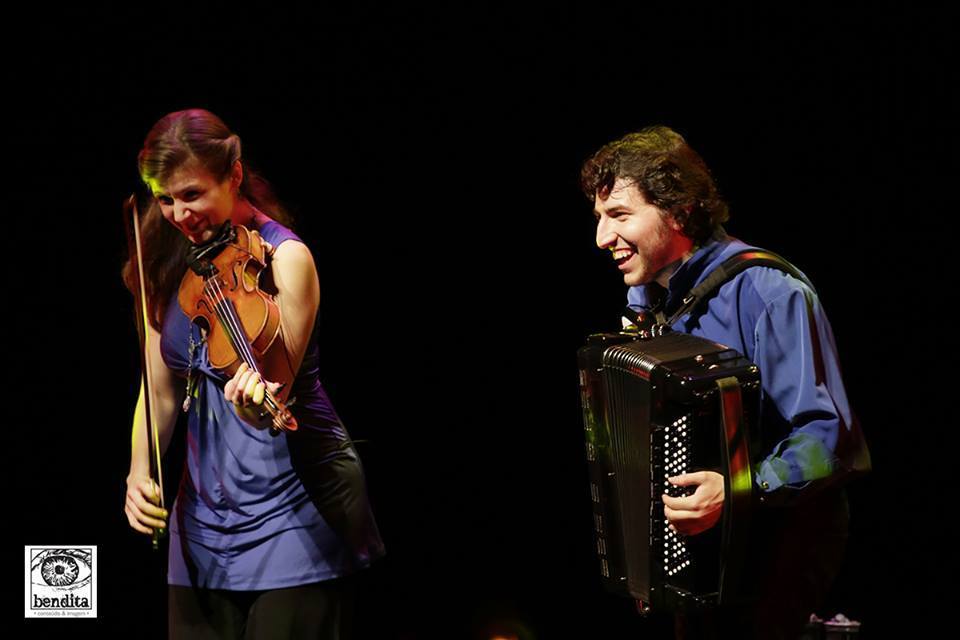 Duo adventures with World-Champion accordionist Cory Pesaturo
Mari and mighty accordion player Cory Pesaturo perform to a packed house at the International Festival Del Accordion in Belo Horizonte, Brazil. ~3,000 people were on their feet for standing ovations by the third tune -- turns out an unexpected blazing Klezmer set makes it impossible for folks to wait until the end of the set! Especially if you follow it with an American rag, some bebop, and the Brazilian favorite "The Girl From Ipanema"! Just "another day in the office" with Cory....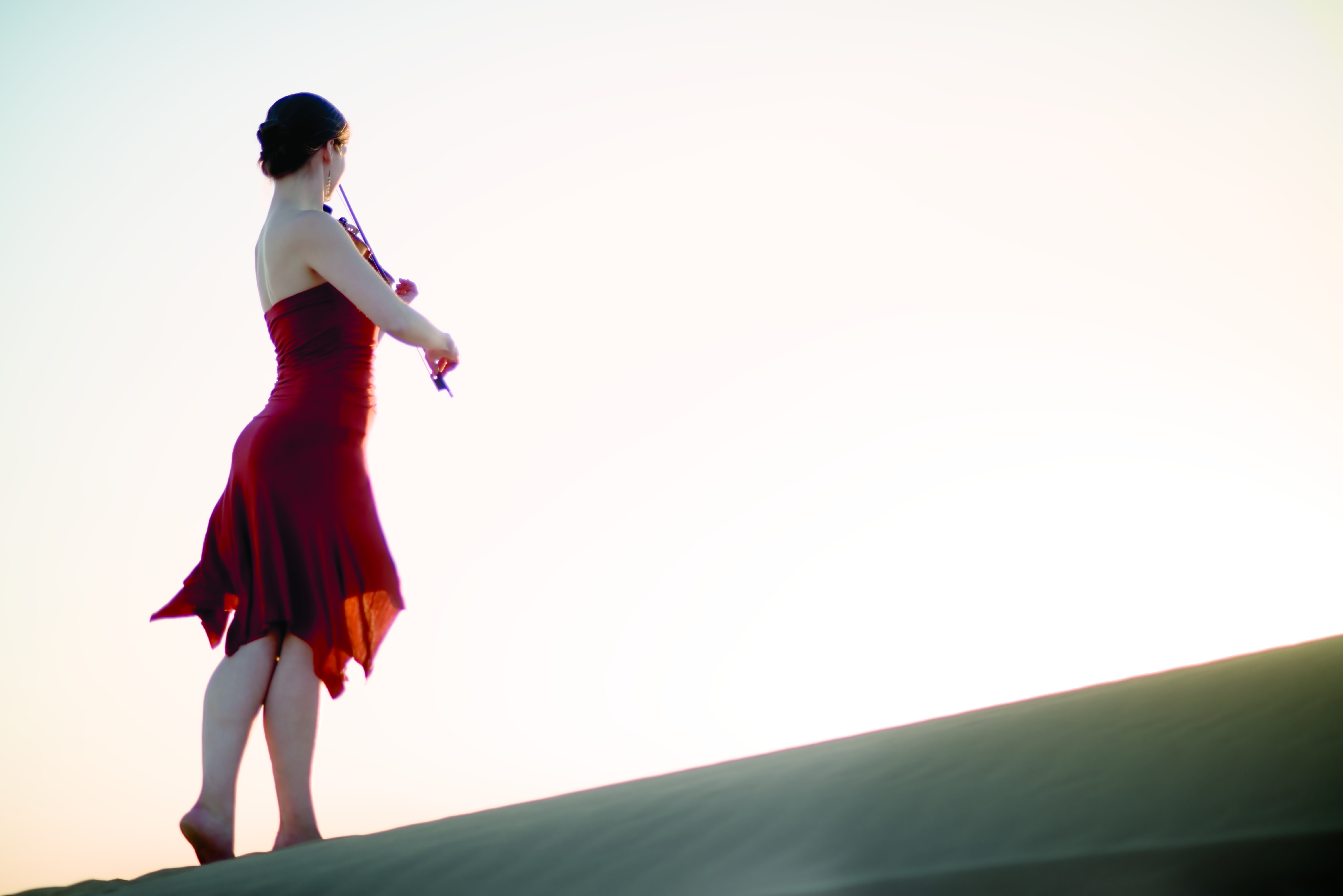 Fiddling at the edge of the world
Mari takes a break for a tune on a photo shoot excursion to the Imperial Sand Dunes in California. It was here that she caught the tune "The Fourth World", which imitates how the desert "played" her violin with the dune-top winds blowing across her strings. Pretty magical evening! (Photo by SubbusClicks)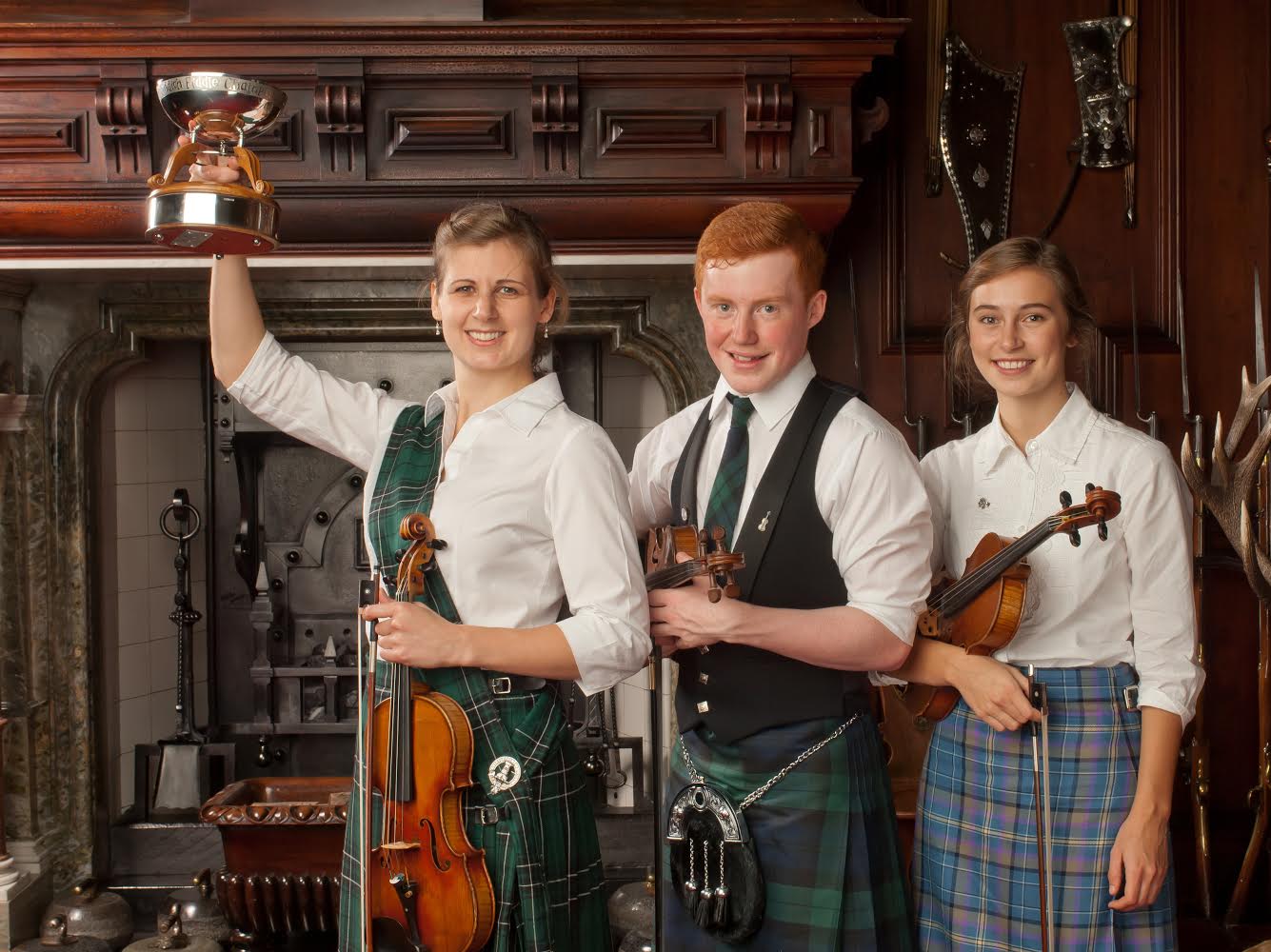 Glenfiddich Scottish Fiddle Championships
Mari is crowned the 2014 Glenfiddich Fiddle Champion in Scotland (the de facto world championships of Scottish Fiddling)! Here she is pictured with the celebrated Glenfiddich Champions' Quaich (trophy), and fellow Scottish fiddlers George Davidson and Maura Shawn Scanlin, who rounded out the Top 3. (Photo by Derrick Maxwell)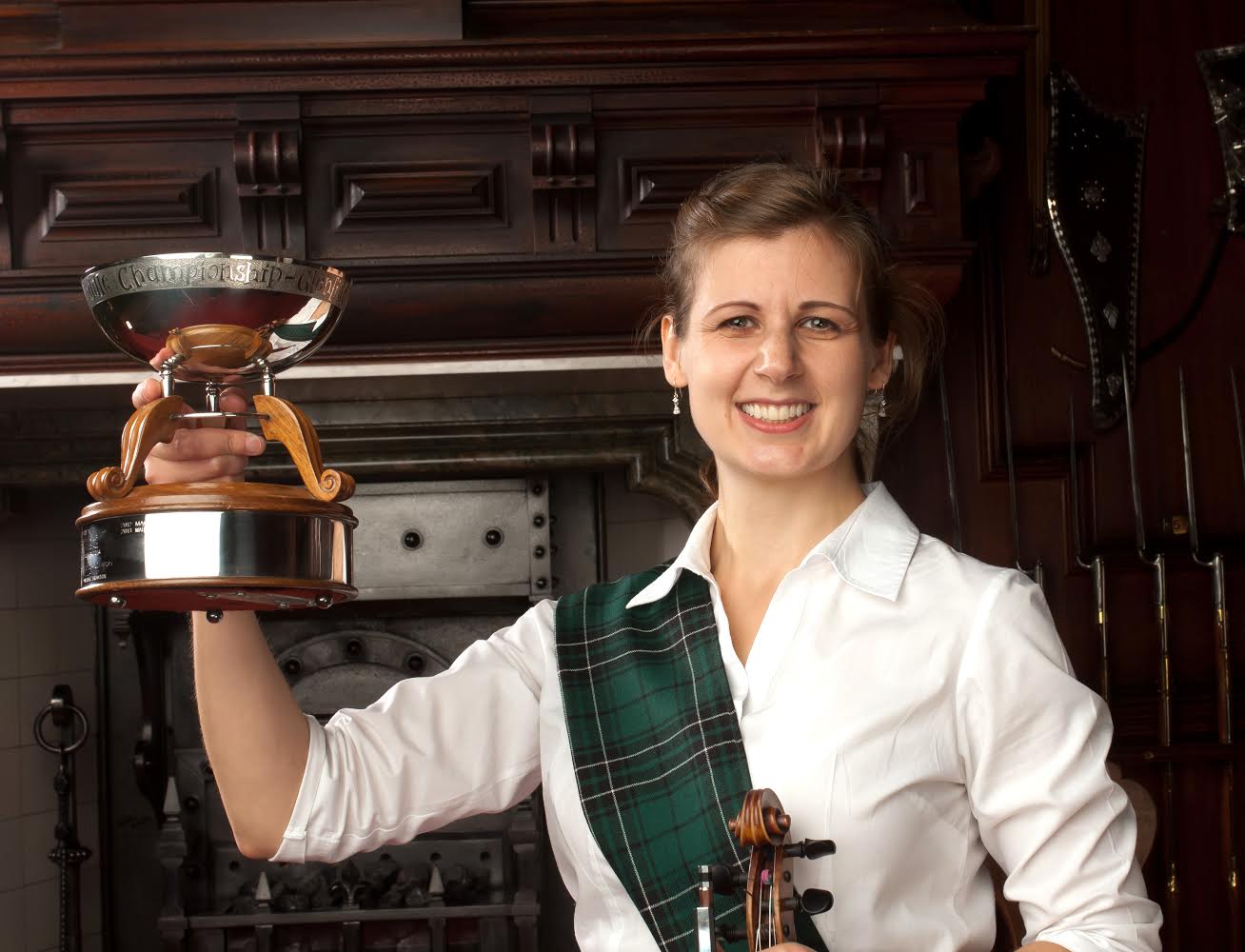 Glenfiddich Champ!
Mari holds the Glenfiddich Champions' Quaich (trophy). What an honor to be the champion for 2014! (Photo by Derrick Maxwell)
Fiddle workshop in Balboa Park
Mari leads a multi-level fiddle workshop in beautiful southern California as a part of the Make Music San Diego festival. 20+ fiddlers joined in learning dance tunes to get the whole section of the part tapping their toes!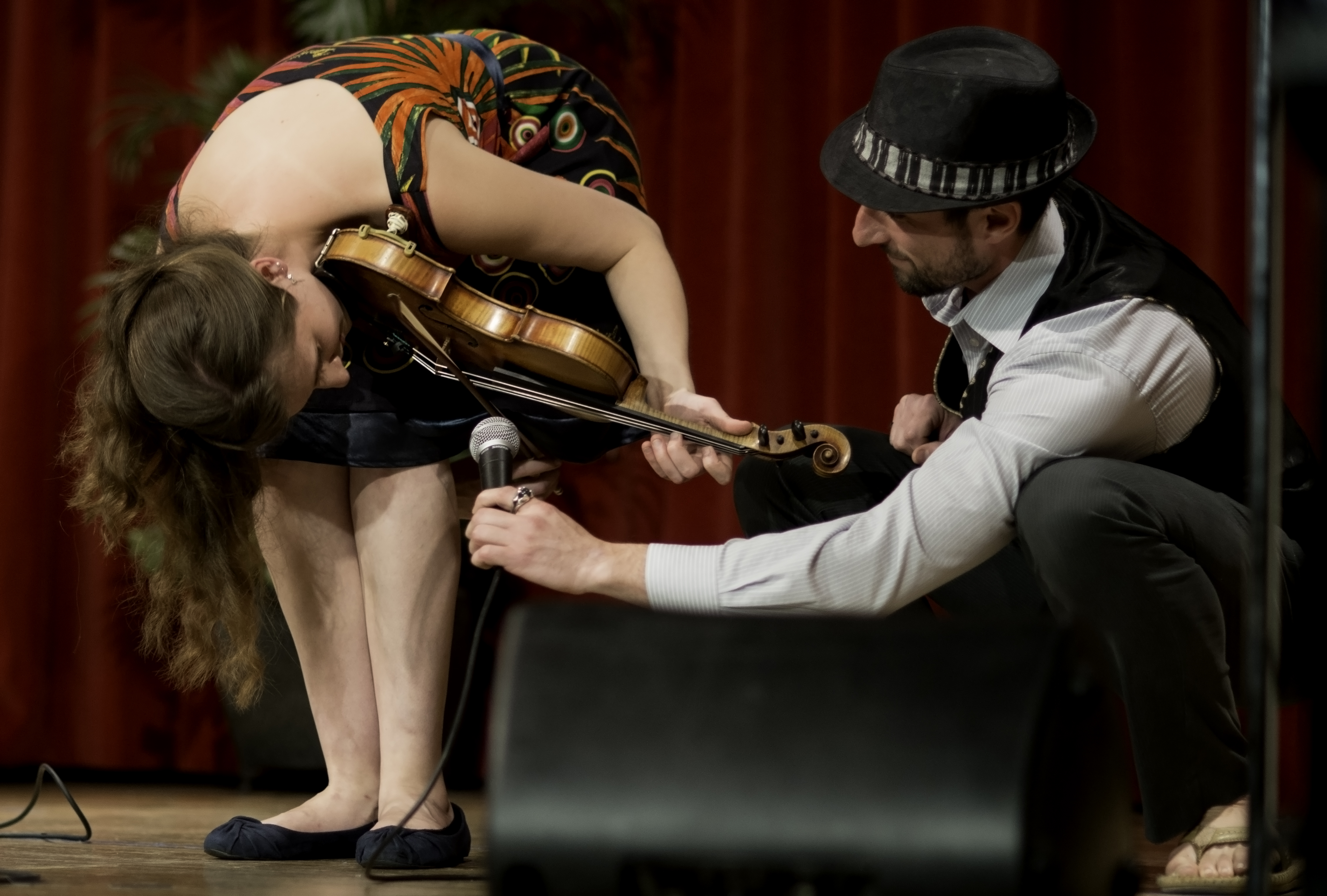 Wait...what?
Mari performs her famous (infamous?) novelty fiddling routine during a West Coast tour. Kudos to Henry Finklestein, following her on the microphone! (Photo by SubbusClicks)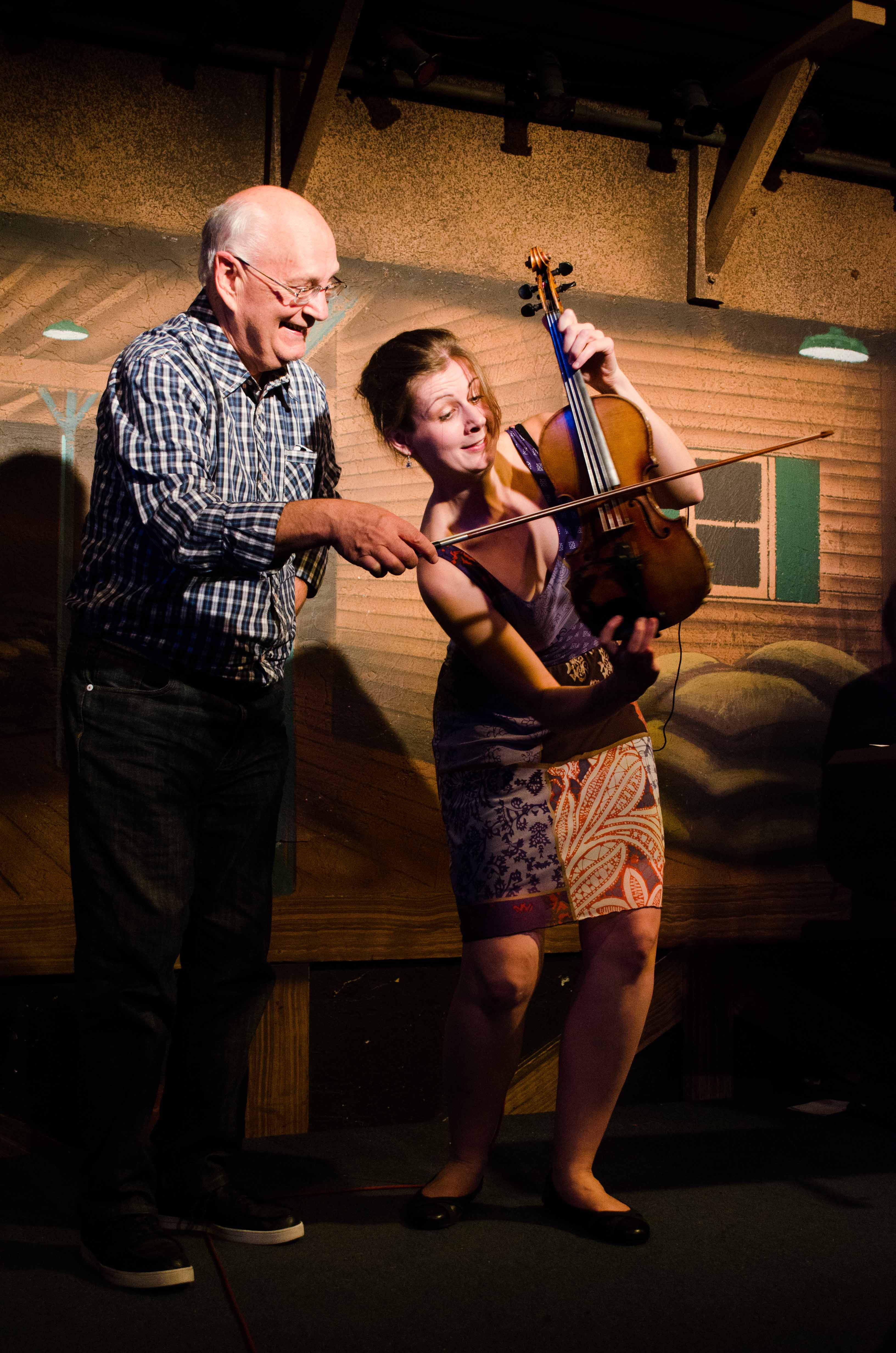 With a little help from her friends
Mari off on her novelty fiddle shenanigans again...this time ably assisted by a member of the audience in Los Angeles, CA. And just think: this gentlemen had never played the fiddle before! (Photo by Michael Carpentier)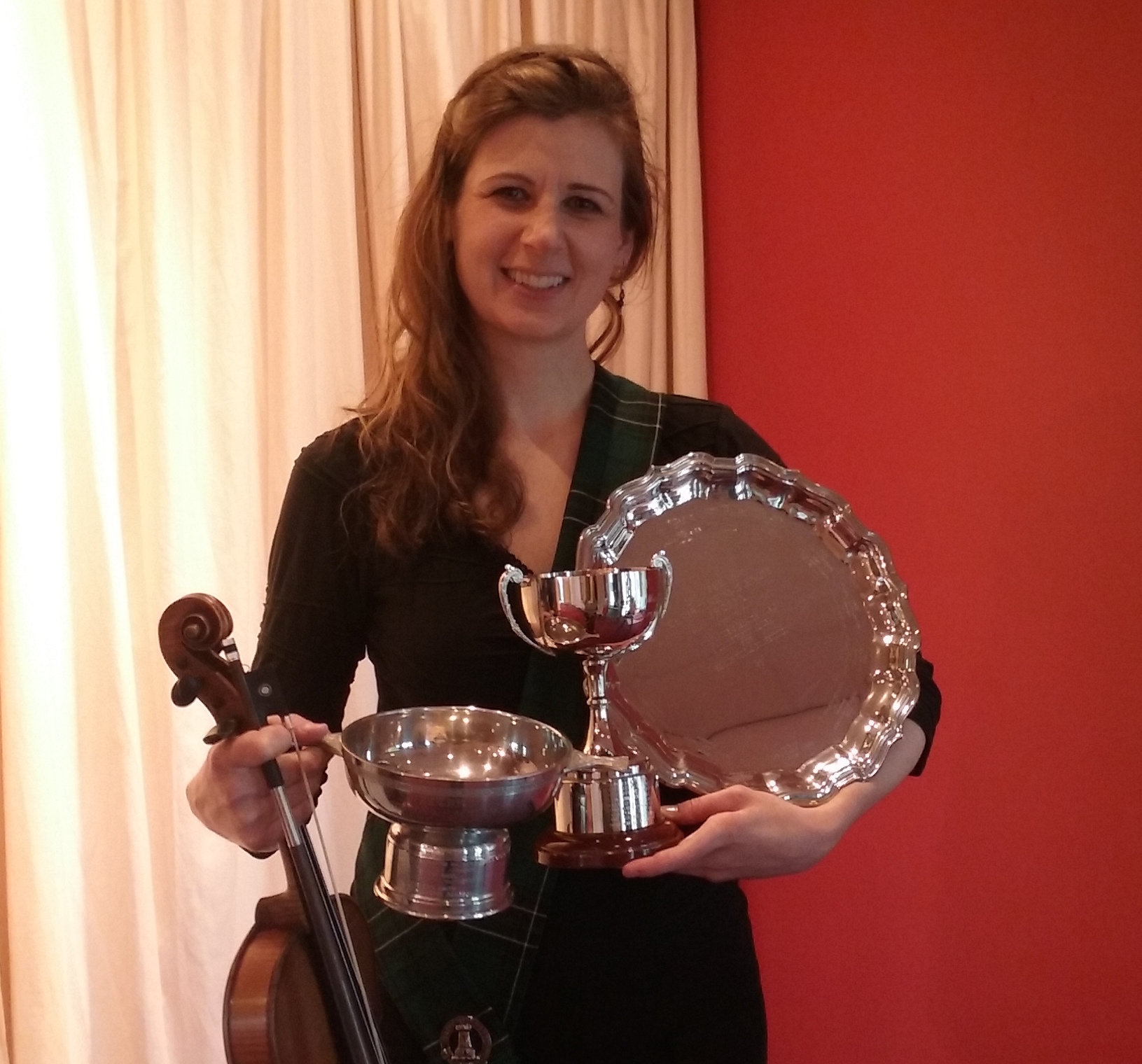 The rotating trophies of Oban
Mari, honored to have her name added to several of the beloved rotating trophies from the Highland and Islands Music and Dance Festival in Oban, Scotland. She was the first American fiddler invited to play at the festival.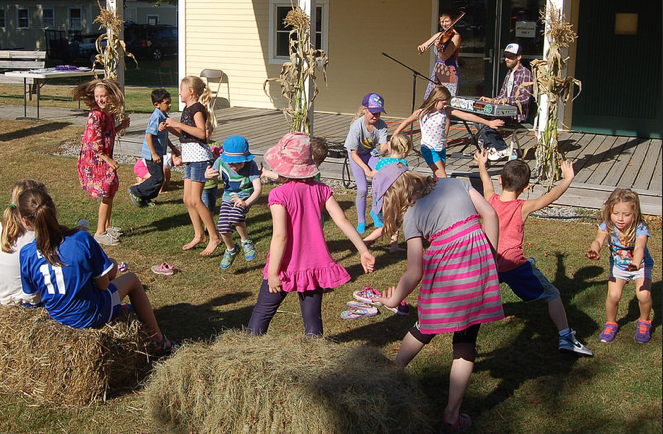 The dancers are coming, the dancers are coming!
Mari and awesome pianist Neil Pearlman perform at the Punkinfiddle Festival in Maine...and are joined by a spontaneous mob of dancing kids! Awesome!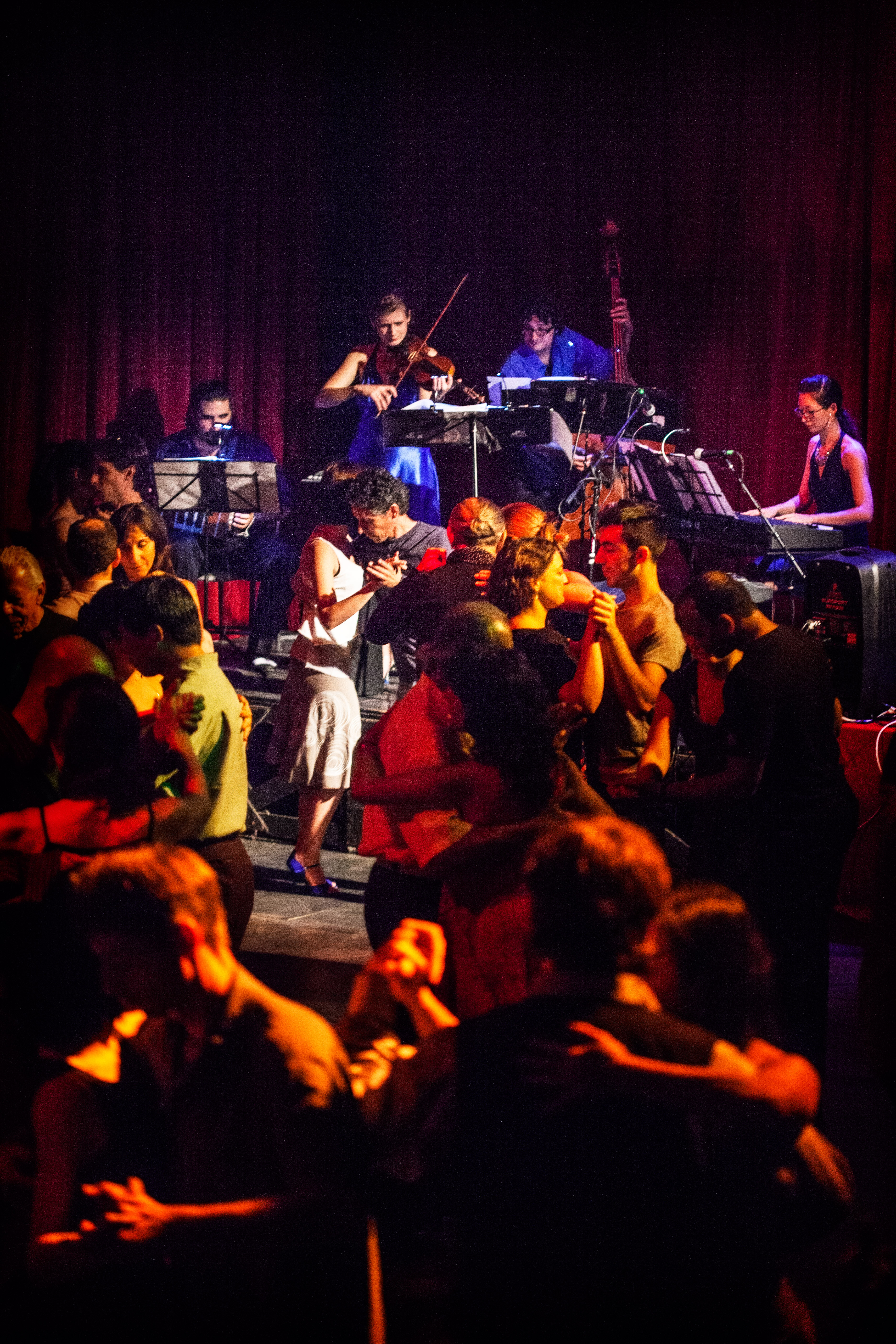 A little tango
Mari performs with her tango band, "Orquesta Sin Trabajo", to a packed floor at CELLSpace in San Francisco, CA.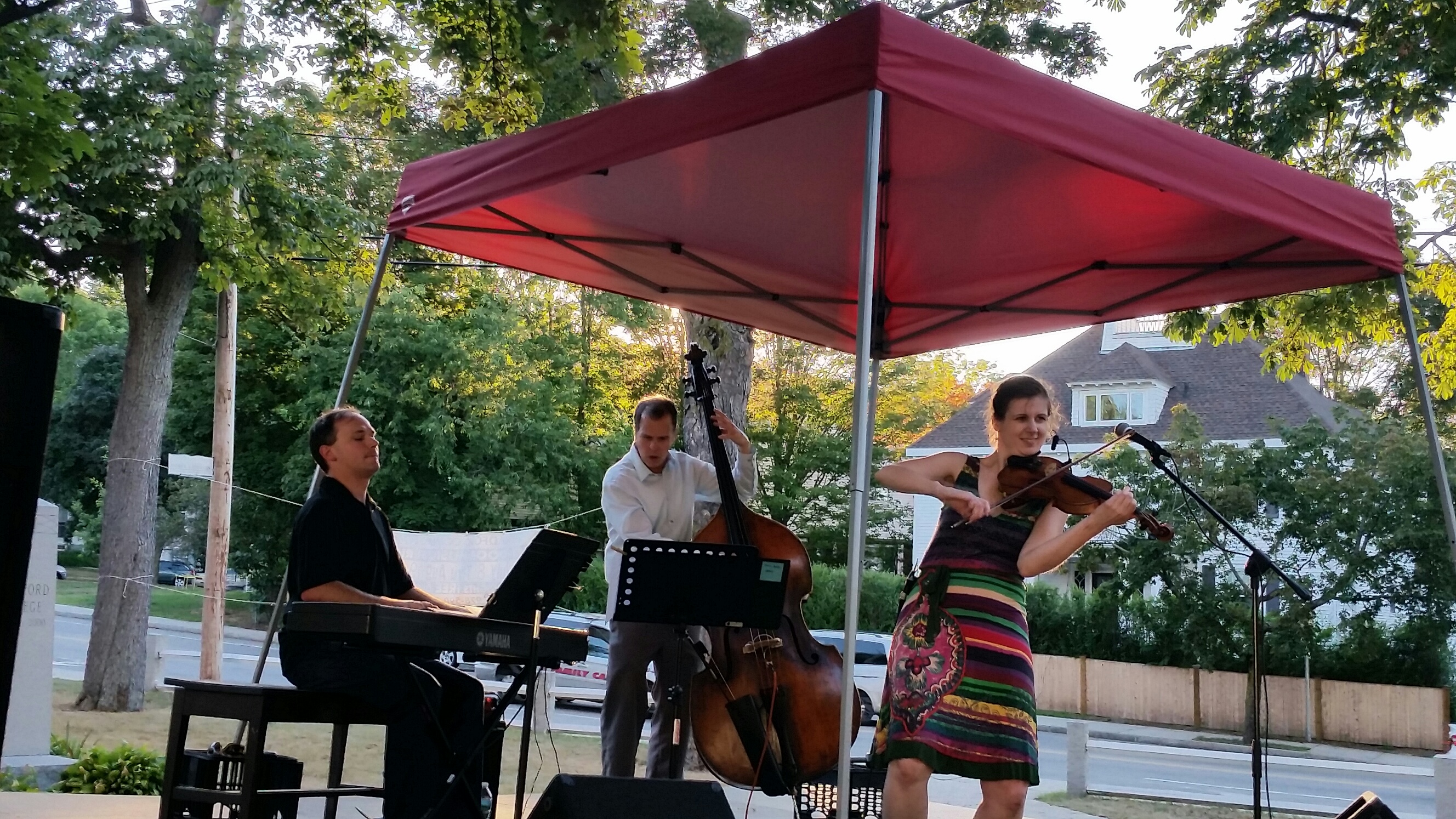 Dancing on the common
Mari and her trio throw down a summer afternoon of dance music from around the world! However much fun she looks like she's having? She's actually having about twice as much (Photo by Debra Luchanin)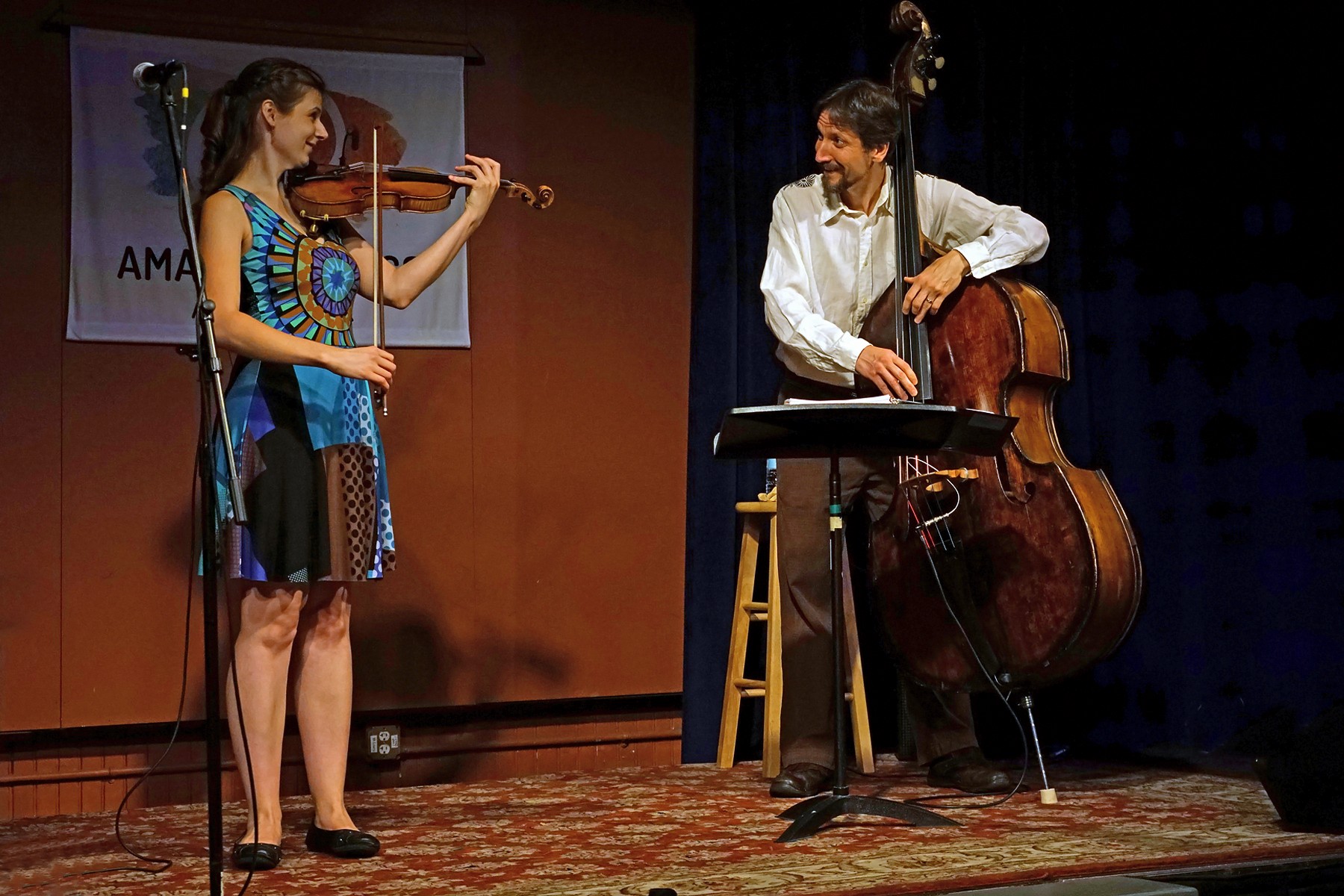 Trading fours
Mari trades improvised licks with fantastic bass player Jesse Williams at their show with Amazing Things Arts Center. One part swing, two parts conversation, six parts mischief, all other parts awesome. (Photo by Joni Lohr)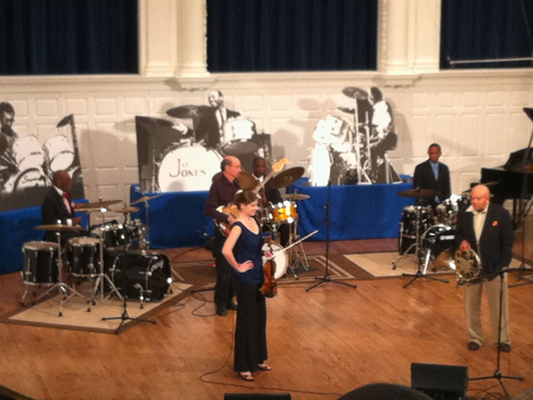 Performing with "The Whole Drum Truth" at the Ellington Jazz Series, Yale University
Mari performs as a guest soloist on the Ellington Jazz Series at Yale University. Here, she performs Ellington's famed "Black and Tan Fantasy" with Artistic Director Willie Ruff, bassist Jack Vees, and legendary jazz drummers Tootie Heath, Louis Hayes, Kenny Washington, and Willie Jones III, collectively known as "The Whole Drum Truth." Drumming fathers Max Roach and Papa Jo Jones look on from above. Now that's a whole bunch of rhythm for just one stage!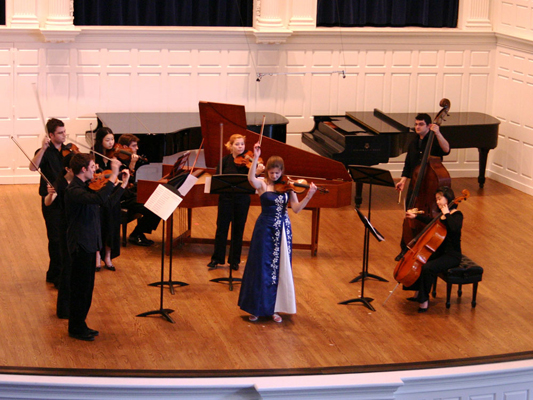 Mari as a concerto soloist at Yale University
Mari performs as the soloist with a fantastic chamber orchestra at the Yale School of Music. Here's the final flourish, fitting for the last note of this dramatic Vivaldi concerto! (Photo by Vincent Oneppo)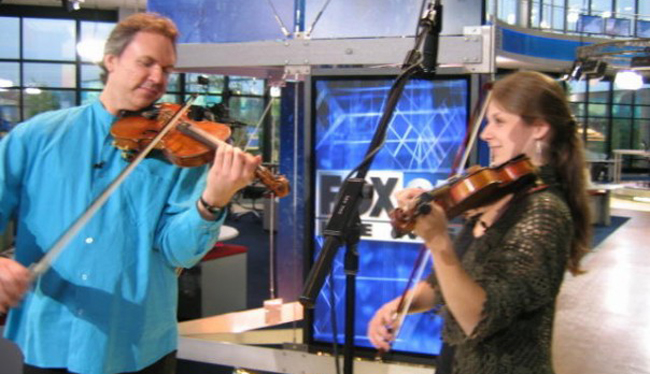 Live TV Appearance with American fiddler Mark O'Connor
Mari performs with Mark O'Connor on live TV, as a preview for the sold-out Mentors and Muses Gala concert at Boston's Jordan Hall. 4 a.m. arrival time for a 7 and 8 a.m. spot, but turns out there's nothing better to wake up early to than a batch of high-energy fiddle tunes!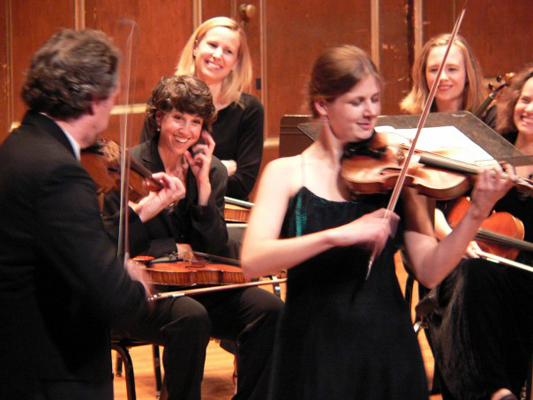 Performing an "Olympic Reel" encore with Mark O'Connor
Mari and Mark O'Connor, performing O'Connor's "Olympic Reel" as an encore at the Mentors and Muses Gala concert in Boston's Jordan Hall. The Boston Globe called this performance "feverishly delightful"--see what they meant by watching the video of it on the
video page
! (Photo by Lisa Sjostrom)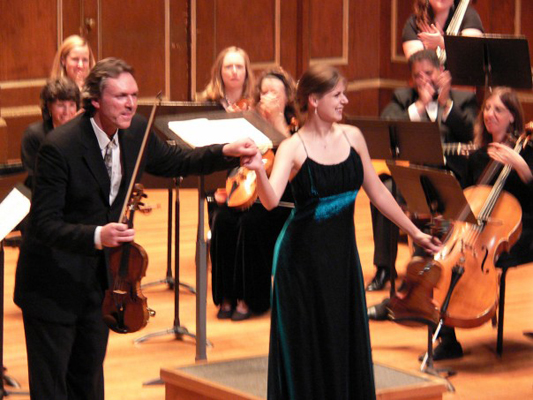 Bows after "Olympic Reel"
Mari and Mark O'Connor take their bows after their "Olympic Reel" encore performance at the Mentors and Muses Gala. Little-known fact (perhaps even to Mark!): Mari actually didn't know "Olympic Reel" until about 4 days before this performance! She learned it, with 24 hours notice, off a bootleg recording after Mark suggested they play it for a live radio interview, 3 days before the Gala. There is a lot to be said for practicing countless repetitions...although Mari's neighbors might have needed some extra Advil that night....! (Photo by Lisa Sjostrom)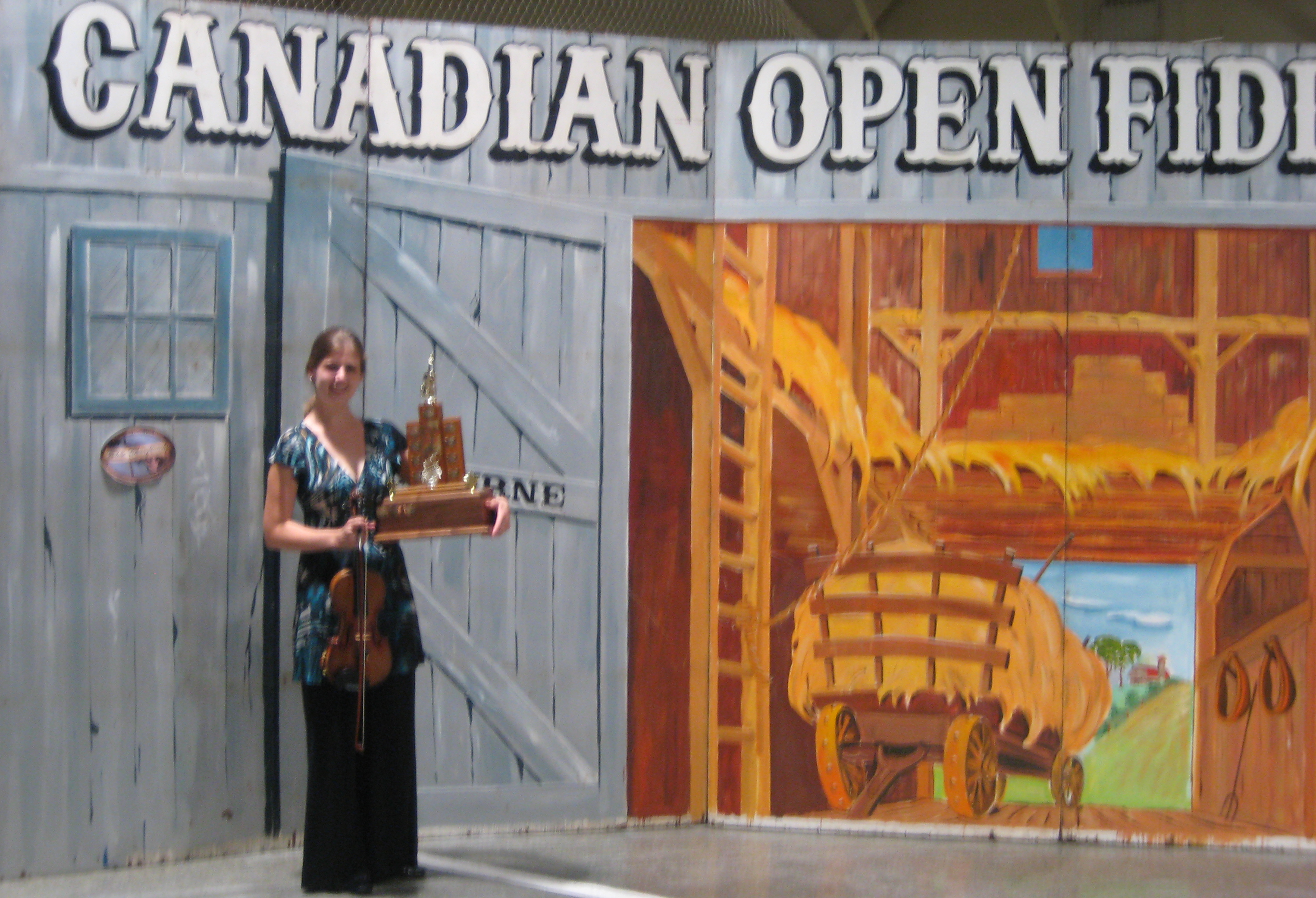 Novelty Fiddle Champion at the Canadian Open Fiddle Championships
Mari's 2011 Canadian travels ended at the Canadian Open Fiddle Championships in Shelburne, Ontario. After four days of almost non-stop playing, jamming, and listening to all the fantastic Canadian fiddlers, she emerged the winner of the Novelty Fiddle class, the 2nd U.S. Fiddler ever to claim the title. For those of you who haven't seen it, "Novelty" basically means "no rules" fiddling where anything goes for tune choice, choreography, humor, etc. Mari took full advantage of this in her novelty routine. Check out the
video page
to see a video of her performance!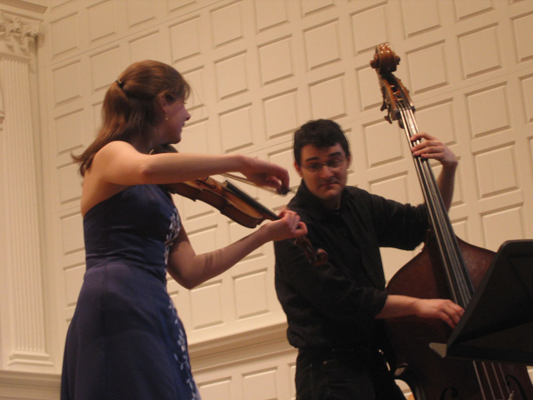 A little Thelonious Monk with bassman Joe Magar
Mari plays in her favorite duo combination--violin and bass--with one of her very favorite bass players--Joe Magar. Here, the two play their duo arrangement of Thelonious Monk's "Well You Needn't"....and almost manage to keep straight faces.... (it's been hard to look serious while playing this tune since discovering the lyrics!)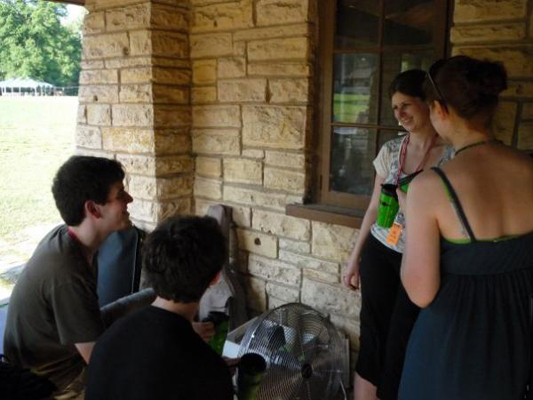 Spending time with students at the Mark O'Connor Fiddle Camp in Nashville
Mari spends time with students at the Mark O'Connor fiddle camp. Notice the official green camp mugs, which were required for all fiddlers to stay hydrated during the humid Nashville week, Mari can still be seen carrying her's at concerts today...just check the cup holders in her touring van!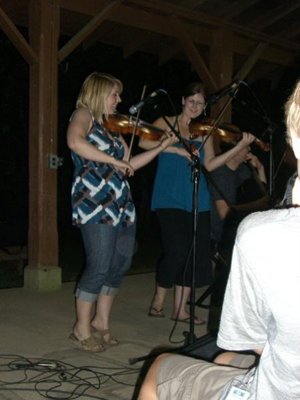 A little twin fiddling with Canadian fiddler Samantha Robichaud
Mari performs on the faculty concert at Mark O'Connor's fiddle camp in Nashville. Here she is joined by fellow Canadian fiddler Samantha Robichaud for a spunky twin fiddle set. Although Canadian fiddling had sometimes been underrepresented among the students at the camp, the style had a powerful presence with these two ladies in residence! Earlier in the week, an after-hours jam session of purely Canadian tunes lasted into the wee hours of the morning and packed over half the camp onto the dining hall porch to get a piece of the action!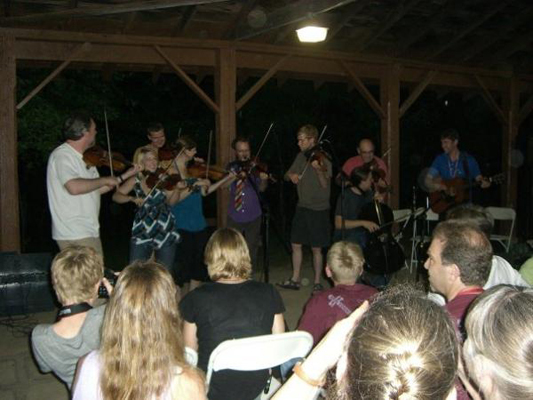 Mark O'Connor Camp final faculty concert
The rest of the fantastic faculty from Mark O'Connor's fiddle camp join Mari and Samantha on stage in a secretly-planned dash-in-from-all-sides charge to end the last faculty concert of the week! Mari, Aubrey Haney, Jeremy Kittel, Jim "Texas Shorty" Chancellor, Casey Driessen, Buddy Spicher, Billy Contreras, Samantha Robichaud, Nat Smith, Hans Holzen, and of course Mark O'Connor himself make an incredible camp finale as they take turns improvising over St. Anne's reel....a Canadian tune, by the way!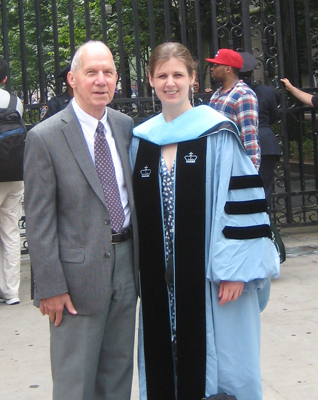 "Dr. Black!"
Mari becomes--unbelievably--"Dr. Black," completing her doctorate from Columbia University's Teachers College. A day in a "clown suit" (as she jokingly calls her doctoral robes) was made extra special with her Grandpa Tom who came up from Columbia, South Carolina.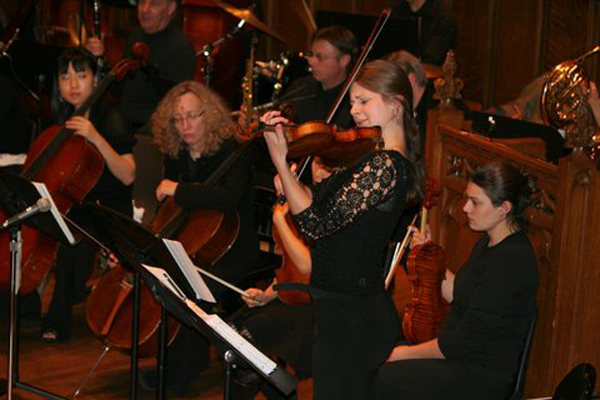 Soloing with the SPIRIT ensemble
Mari takes a solo with the Spirit, and improvising ensemble in residence at Columbia University. This concert took place in Milbank Chapel at Columbia, where Mari's mom used to perform as well--very cool full-circle effect!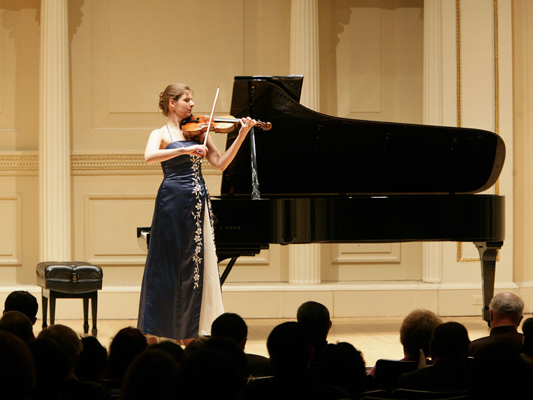 Solo debut in New York's Carnegie Hall
Mari gives her solo debut in New York's Carnegie Hall as a winner of the American Protege International Piano and Strings Competition.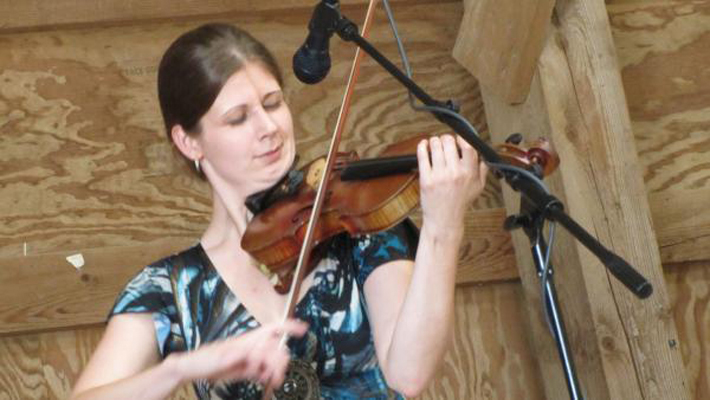 Fiddle performance in New Boston, NH
Mari performs at the 4th of July Celebration in New Boston, New Hampshire (yes--there IS a "New" Boston!)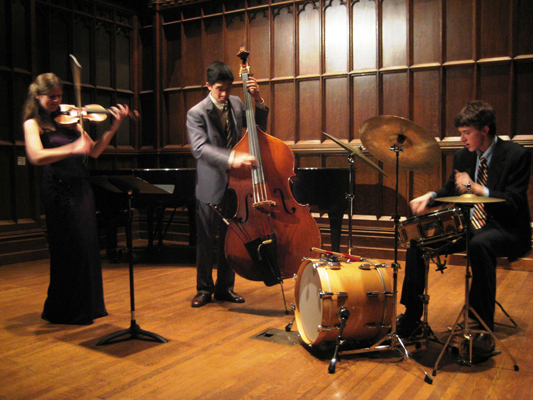 Jazz trio in New York with bassman Kevin Hsieh and drummer Jesse Simpson
Mari performs with jazz bassist Kevin Hsieh and drummer Jesse Simpson in New York City. Here, the group plays around with the classic tune "The Surrey With the Yellow Fringe On Top" (although after several explanations, Mari still does not fully understand what a "surrey" is).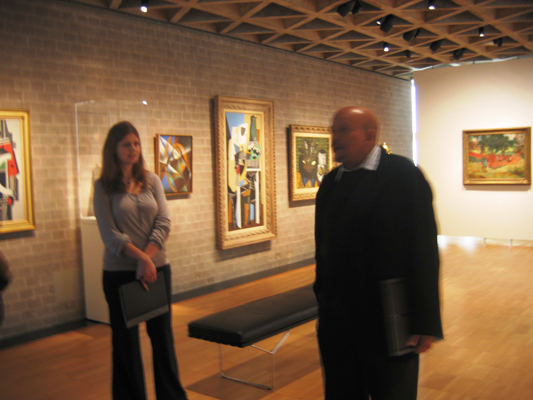 Speaking at the Interdisciplinary Seminar on Rhythm with jazzman Willie Ruff, Yale University
Mari and jazz mentor Willie Ruff lecture on the role of rhythm in visual art, guiding graduate students in Ruff's Interdisciplinary Seminar on Rhythm through the Yale University Art Gallery. Mari was once a student in this seminar herself, during which time she discovered her first Artistic Challenges and learned more about music from architects, geologists, mathematicians, poets, and physicians than she had previously thought possible. She has been honored to join Willie Ruff's roster of amazing guest lecturers for the seminar, and is always happy to be back in her old "Rhythm School," where new ideas are constantly brewing.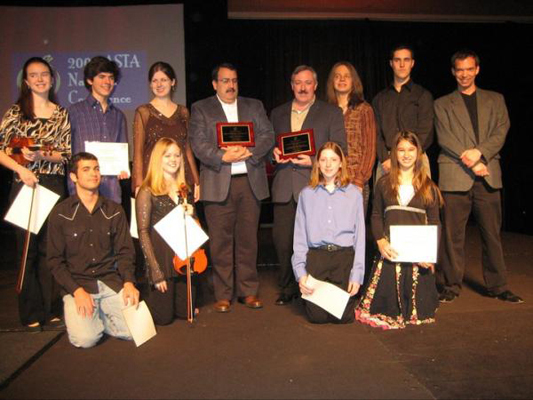 With the ASTA Alternative Styles Awards winners, 2007
A blast from the past!--Mari and the other winners of the 2007 American String Teachers Association (ASTA) "Alternative Styles Awards"! Pictured here are young(er) versions of other fantastic string players with whom you might be familiar: Alex Hargreaves, Mike Barnett, Jason Anick, Antonio Pontarelli, Maddie Denton, Ruby Jane Smith, Air Messenger, Olivia Smiley. If you don't know any of these folks, Mari highly recommends some YouTube surfing! So much talent in one photograph!